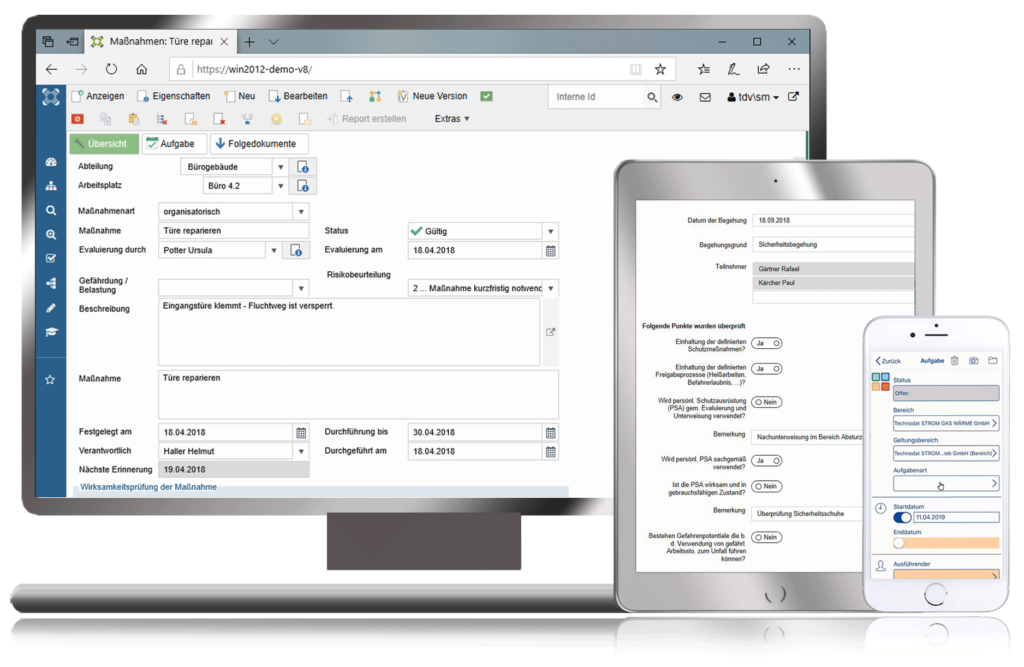 syneris Web


In addition to the syneris Windows client, the various syneris Web Clients or Web Views offer site-independent availability and user-specific access options.

Using the Internet or intranet, the diverse possibilities of syneris can also be used web-based with notebook, smartphone or tablet.
syneris Web Clients
syneris Web Structure Client
The syneris Web Structure Client is a full-featured client that is similar in structure to the syneris Windows client, has essentially the same functions and offers fast access and editing options for all company-relevant information.
syneris Web Capture Client
The syneris Web Capture client is a multi-purpose client suitable for a wide variety of recording cases, e.g. for accidents, near misses, audits, inspections, damage reports, fault reports or risk potentials.
syneris Web Confirmation Client
The streamlined syneris Web Confirmation Client provides easy and swift access to area-specific topics and information that can be confirmed, rejected, or commented on by mouse click.
syneris Web LMS Client
The syneris Web LMS client supports the handling of face-to-face instructions & digital training. Training content can be quickly assigned, video modules can be integrated.
syneris Visitor Management
The syneris Visitor Management handles
the access control in the building or company premises for external visitors or external companies.
syneris Web Faceted Search Client
Based on the Web Structure Client, the Search Client offers multiple search options:
Full text search, autocomplete, facet search or search supported by operators.
syneris Web Dashboard
The syneris Web Dashboard provides a customizable overview of information in a consolidated form, such as open tasks, due instructions incl. graphic visualization.
syneris Web Views and APPs
The syneris Web Views are views based on the use case, which provide a well-organized presentation of selected content, e.g. from the areas of occupational safety, learning management, quality management and project planning, maintenance, production, …). Simplified processes and a high degree of user-friendliness characterize these web applications which guide the user to his or her goal with just a few clicks.
syneris Process Map
The web-based syneris process map allows processes to be displayed and linked to any syneris document or structure area.
Topic Based syneris Web View
The syneris Web View displays topic-based content that can be accessed by mouse click.
syneris Idea Management
The syneris idea management system maps all processes from the idea to the successful product launch. Continuous improvements in product development or process innovations can be visualized.
syneris Electronic Shift Book
Communication in shift operations such as the capturing of events, malfunctions, tasks or instructions including shift handover can be transparently documented with the syneris Electronic Shift Book.
syneris Activity View
The syneris Activity View provides quick access to user-specific use cases or to activity-related tasks which can be accessed by link.
syneris Room Directory
With the digital room directory from syneris, the complete object or plant structure can be captured, visualized and documented.

syneris Offline Apps
The syneris APP solutions enable cross-departmental work and support mobile data capture.
Learn more about
syneris Windows Client
syneris Web Applications