Managing and Organizing Legal Documents
syneris Legal Notices supports the legally secure administration of official notices in all legal areas. If authorities pass new laws and regulations, companies must identify relevant changes and meet the resulting requirements. The supporting software must ensure a smooth implementation process.
Structure for Complex Processes
syneris Legal Notices software supports the legally compliant management of official notices in all legal areas. The duties and tasks resulting from laws and regulations, standards and guidelines can be organized and implemented. Legal compliance requirements are thus fulfilled.
Managing Notices with Tasks and Deadlines
An official document is captured in syneris, additional documentation such as correspondence, submission documents, subsequent documents can be attached. One-time or recurring tasks or checks resulting from a notification are integrated into the system and assigned to the people in charge by email.

There is a reminder for recurring checks. The task can be completed directly in the system. Open or overdue tasks and checks are visually displayed using the traffic light function.
If the notification is relevant in various departments, it can also be linked several times. All authorized personnel, even from different departments, always works on the current notification, no copies.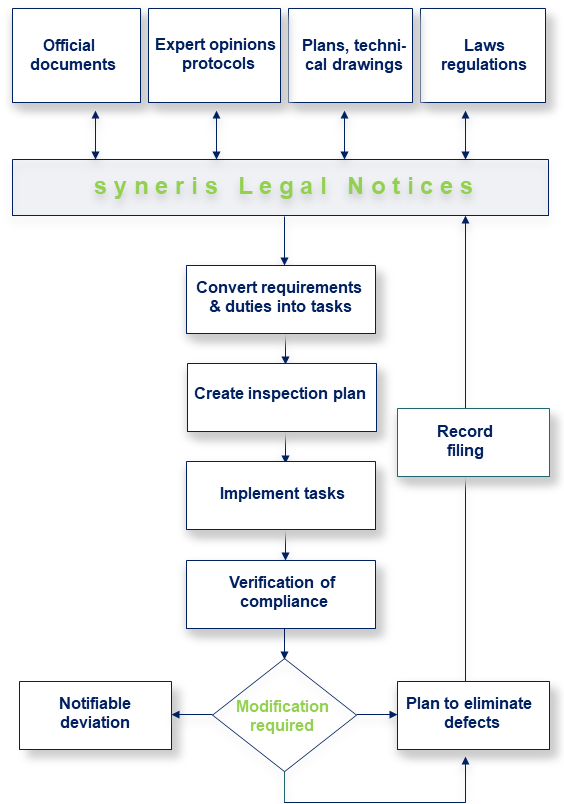 How to Update Legal Information
Any changes in laws or regulations can be queried by means of an interval-based matching process and imported into syneris.

As another option an integrated link allows access to the federal legal information system to view promulgated legislation and regulations and download updates.
Example of Use
syneris is completely flexible regarding structures, designations and processes. Depending on the needs of the customer, the masks can also be designed as required. The following example refers to a notice that is essential for several departments in a company.
Managing Legal Notices
A notice that is subject to trade law is to be managed digitally, including all relevant documentation plus deadline control. Title, business number, legal area and other essentials are captured. By simply clicking on checkboxes, the notice is also marked as relevant to the plant. Thus it is automatically linked to the selected plant.
Task Management with E-mail Notification
Based on the requirements, recurring tasks are created and immediately assigned to the authorized employee. An email notification alerts the employee that there is need for action. A provided link leads to the task in question. The employee can check these off in the system as completed and add in the relevant documents.
All relevant documentation such as correspondence, submission plans, findings, expert opinions, and test certificates can be attached.
Legal Update
For legal updates, the federal law database can be accessed directly via RIS linking. syneris points out recent changes in paragraphs. Alternatively, the legal register can be incorporated into syneris by means of the legal service.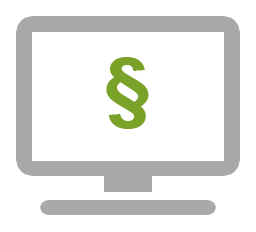 Web Presentation Legal Notices
Learn how syneris supports the handling of legal notification, legal compliance and contract management. NOTE: In German only!