Digital Visitor Management for External Visitors and Contractors
The syneris visitor management system enables convenient visitor registration and the issuing of visitor badges for external persons or companies. Visitors can thus be registered, briefed and instructed about regulations or possible hazards.
In addition the front desk is provided with an overview of the presence of external visitors.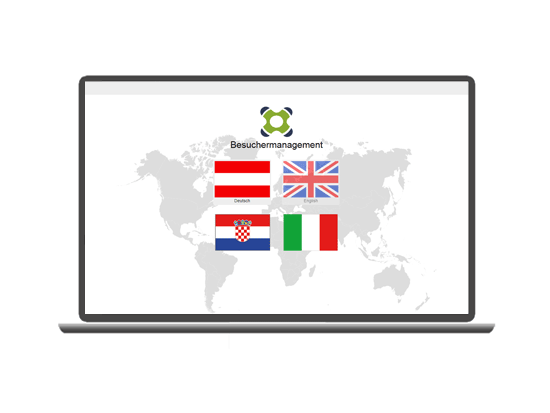 Web-based Visitor Management
The web-based syneris visitor management includes access control of external visitors or external companies (in the building or on the company premises) as well as site instructions, if required with knowledge checks.
Visitor registration can be done online in advance or at a terminal on site.
Preregistration & Instruction
Registration can be done in advance by online form.
After entering the required data including a photo (facial recognition) and if necessary undergoing a site instruction, a confirmation with QR code is generated, which is to be presented when arriving at the company premises.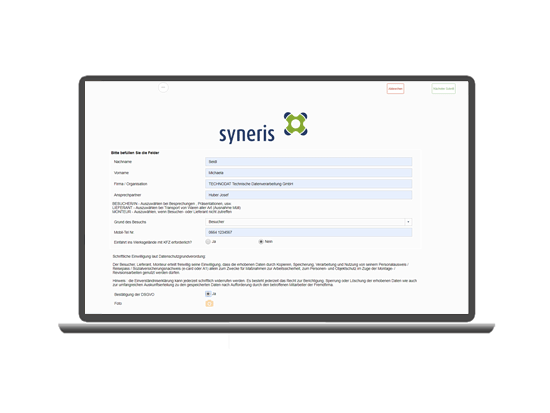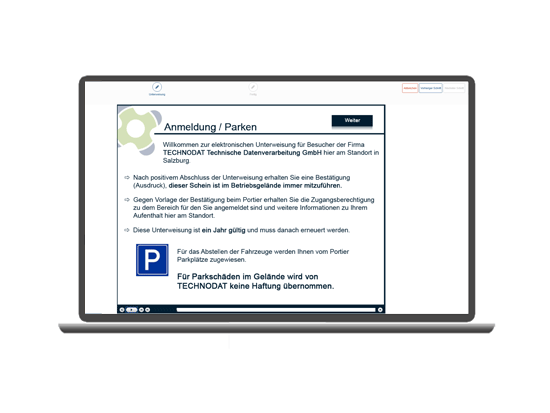 On-site Registration & Instruction
The external visitor or contractor (supplier, fitter, …) registers at a terminal on site with the required information before entering the site or building.
After entering data an instruction with knowledge check takes place, if necessary.

Upon successful instruction, the visitor's pass can be printed or picked up at the front desk.
The multilingual instruction modules can be customized as needed.
Occurrences at a Glance
Subsequently, visitor management for the receptionist or front desk provides an overview of the visitors who are currently on-site.
In case of incidents or in case of fire, evacuation can be arranged.
The validity of issued or soon to expire visitor passes can be monitored.